Welcome to the first Actor Introduction of this blog! I'll be trying to write about famous actors of Japan, hopefully, those that are not too famous in the West so that I don't just repeat the ramblings of other people on more famous/younger/better looking (but usually less talented people).
Well with that out of the way......
The actor that I'll be briefly (hopefully) babbling about today is the multi-talented Takenaka Naoto (

竹中 直人). Non-Japanese people who watch Japanese dramas and movies possibly may recognise this unique face, but not quite know just who he is, as he has appeared in many popular shows/films, but usually as support characters.
Generally, he plays a comedic or odd ball character, which he does with great skill, having first breaked out onto show business as a comedian back in the late 70's. He gained the attention of public with his monomane (impersonation) skills, the most notable being Bruce Lee and Matsuda Yuusaku (actor). He eventually progressed from being a comedian to acting in films and dramas, and spent most of the 80's being an actor. However, it was really from the 90's that he bloomed.
In the 1992 film Takenaka starred in Shiko Funajatta**, a movie about a university sumo wrestling club with an illustrious past, but faces the future of being folded due to lack of membership. In fact, Takenaka (who plays Aoki) is the only member until the main lead (played by Motoki Masaharu, now famous for leading Academy award winning 'Departures') joins. This is a hilarious film, especially Takenaka, who despite being the longest serving member and most passionate about the sport, suffers from intense anxiety at matches, and ends up desperately
needing to go to the toilet. As a result, he usually loses his fights, as he quickly runs off to the toilet during the fight or doesn't turn up at all. Anyway, I won't give too much away yet, but you should definitely have a watch if you have the chance. I believe the english title for this is "Sumo Do, Sumo Don't" and you can probably find it on DVD somewhere, or be a bad person and download (we wouldn't right?).
**Shiko is like a traditional stepping action that Sumo's do. Fujatta is stepped, so = (I) Stepped Shiko.
Here's a video of shiko. Start the video at around 48sec to see.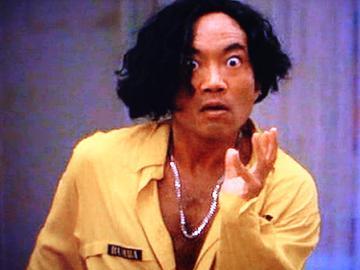 In 1995 he landed the lead role of Toyotomi Hideyoshi in the Taiga Drama (

大河ドラマ/ historical drama). To be able to star in a Taiga Drama, let alone the lead role is a great honour in Japan, and usually only the most talented / seasoned/ popular actors are able to achieve such parts. In 1996 he starred in "Shall we Dance", a film directed by the same person as "Shiko funjatta" and starring just about the exact same cast. He also played a similar role, the passionate but flawed and as a result kimoi (gross) person, except this time with ballroom dancing rather than Sumo. This is also a very entertaining movie, and has even been remade in Hollywood with the same name and starred J.Lo and the guy off Pretty Woman (I think?...the one with Julia Roberts as a whore...), which I haven't seen, and probably won't bother to. The Japanese version however, is a very charming and pleasant movie, which leaves feeling all cheery and fluffy. It should also be easier to find because of the remake, and as it has won a Japanese academy award.
Other popular movies that he has been in, although in bit part roles (as usual), are
(With cutie pie Ueto Aya  

O(≧▽≦)Oキャー!!)
Ping Pong
Water Boys
Swing Girls
He also had a veeeery small role in 20th Century Boys, in which he basically does a weird little dance and drops dead.......it's fairly random and funny.
The role that most non-Japanese people would recognise him off in recent times however is as the perverted orchestra conductor Franz von Strezeman, off the extremely popular drama series "Nodame Cantabile".
Yes, he plays some old European dude, and looks quite ridiculous. The make up is quite cheap (?, well its a drama) and is obviously an Asian man with a prosthetic nose and machine aided tan. You eventually stop taking notice of it though (sort of), but that doesn't really matter because he is quite hilarious in this role with his strange Japanese accent and shifty movements....and pervasious (don't think thats a word) eyes. A very funny ero oyaji (Old perv).
Okay well i've finally kind of written most of what I think I should about him, plus I can't really be bothered doing anymore...
Basically he's the comedic bit-part king of Japan, and its quite amazing, as despite mostly only having small roles such as this, he is still generally very noticeable and memorable with the characters he plays. He oozes a unique aura, unique face, a deep unique voice and unique character, and I suppose that this the reason why he's so famous in Japan, or at least the reason I like him. Look at the friendly face on the first picture....I would love to have him as an uncle or something..